Free 28-Day Healthy Dinner Challenge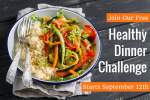 Join the Free 28-Day Healthy Dinner Challenge
The #SKHealthyDinner Challenge is a four-week challenge focused on cooking and eating delicious healthy dinners that you can feel good about.
Everybody wants to get a healthy meal on the table for their families but sometimes that can feel impossible. Between homework, after school activities, and everything else on your to-do-list, finding time to plan and prepare meals is tough. The six o'clock dinner scramble is real.
That's why we are excited to have you join us for our 28-day Healthy Dinner Challenge. Our goal is to make getting a healthy dinner on the table easy, delicious, and stress free.
Healthy Dinners Never Tasted So Good
During the 28-Day Healthy Dinner Challenge, we'll send you weekly emails with a meal plan including five healthy dinner recipes, a complete shopping list, and everything else you need to get cooking! The recipes are family-tested, easy to make, and most importantly taste amazing.
During the challenge, you'll be in charge of two dinners a week. We plan it this way since most people don't cook at home seven nights a week. To keep the healthy kick going, we challenge you to make healthy choices whether you are dining out, ordering in, or preparing something on your own. And leftovers are always an option as well!
Wondering about breakfast and lunch? We'll send you ideas for healthy breakfasts and lunches each week but we find that most people are successful when they start by committing to a healthy dinner and then continue to build on their healthy habits. Sometimes trying to change everything at once can be overwhelming. Although most people tell us that after a week of eating healthy dinners, they begin making better choices all day long.
Here's a preview of some of the delicious dinners
Join the Challenge Community
Everything is more fun with a team, so we encourage you to share your healthy dinner challenge journey with others.
Join our Slender Kitchen Healthy Dinner Challenge Group on Facebook: Every day we will be sharing inspiration, the daily recipe, and ideas for healthy breakfasts and lunches! Plus it's a great place to ask questions, share progress, and meet other challengers.
Share photos on Instagram and Twitter: We love seeing what's happening in your kitchen! Snap a pic of your healthy dinner and share it using the #skhealthydinner and tag @slenderkitchen.
Let us know how dinner turned out: Take a minute to review the recipes on Slender Kitchen! Share any adaptations you made to the recipe and tell us how it turned out.
And what's a challenge without a few great prizes! Throughout the challenge we will be giving out prizes to celebrate your success making healthy dinners at home. To be eligible for these weekly prizes, make sure to get involved using one of the options below.
Free Year Long Memberships to Slender Kitchen
Healthy Dinner Prize Packs including our favorite good-for-you goodies and kitchen gadgets for eating healthy
Grand Prize: Lifetime Membership to Slender Kitchen and a healthy Dinner Prize Pack
What if I am already a meal plan member?
We hope you join in as well! The 28 Day Dinner Challenge will feature five dinner recipes that are also in the meal plans so that you can share in the fun, motivation, community, and prizes! So sign up below to get in on the fun!