Forty Weight Watchers Chicken Recipes
Weight Watchers Chicken Recipes that are delicious, healthy, and low in SmartPoints for the grill, slow cooker, stove top, oven, and more.
These Weight Watchers Chicken Recipes are exactly what you need to make a delicious, point friendly dinner with everyone's go-to protein source, chicken!
I can't tell you how many hours I have spent staring at a package of chicken breasts or chicken thighs and trying to figure out what's for dinner. They are something I stock up on every week and a staple in our house for dinner. And yet, I always find myself frantically searching last minute for a chicken recipe that is Weight Watchers friendly and also something my whole family will love. But it can't be boring. We need something tasty and full of flavor because no one wants to eat a plain chicken breast. Can you relate? Then this list is for you! It's jam packed with amazing recipes that you are going to love. Plus every recipe includes Weight watchers points, nutritional info, and is a good, healthy choice you can feel good about.
Now when it comes to making Weight Watchers friendly chicken dishes, there are a few things to keep in mind:
Ready to dig in! Check out the delicious recipes below.
Quick and Easy Weight Watchers Chicken Recipes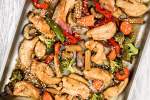 Most of us don't have a lot of time on busy weeknights between work, after school activities, homework, and our daily to-do list. For those busy nights, these recipes will get dinner on the the table in under 30 minutes. They involve minimal prep work and are easy to get on the table. Plus lots of them are one pan dinners where everything cooks together for a really easy meal. Need a quick and easy side dish? When we are busy, I always rely on either frozen rice/grains from the supermarket or pre-cooked grains I have made on the weekend. Microwave baked potatoes and sweet potatoes are also a good option.
Slow Cooker Weight Watchers Chicken Recipes
Another great method for making healthy and low point chicken dishes is to use your slow cooker. Not only does slow cooking chicken add tons of flavor since everything has time to combine, it is also a hands off cooking method that allows you to make dinner when you are out of the house. To make sure your chicken comes out juicy and flavorful, you want to make sure that you layer in lots of flavor in the recipe. Using garlic, onion, diced tomatoes, herbs, and spices are all great ways to impart tons of flavor.
Grilled Weight Watchers Chicken Recipes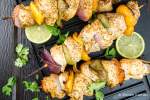 We all love chicken on the grill but many of use rely on store bought marinades and dressings to add flavor. Unfortunately many of these are packed with sugar and add lots of calories to what would normally be a healthy meal. Instead of relying on these store bought sauces, instead make your own homemade marinades using fresh ingredients. They taste just as good but are much more Weight Watchers friendly and better for you in general since they don't include preservatives, chemicals, and other ingredients that aren't natural.
What are your favorite Weight Watchers chicken recipes?