Fifty Weight Watchers SmartPoints Slow Cooker Recipes
Fifty Weight Watchers SmartPoints Slow Cooker Recipes for an effortless dinner that your family will love. Recipes for chicken, beef, pork, vegetarian meals, and more.
Fifty Weight Watchers SmartPoints Slow Cooker Recipes because there is nothing better than getting home after a long day and having dinner ready and waiting in the slow cooker!
For anyone on the Weight Watchers® SmartPoints™ program, the slow cooker is a great way to make flavorful, easy meals that don't require hours in the kitchen plus they provide great leftovers for easy lunches and dinners. These fifty slow cooker recipes with Weight Watchers® SmartPoints™ are some of my favorites and the ones I make most often in my own kitchen.
For my personal meal planning (and the Slender Kitchen meal plans), I love making a slow cooker recipe on Sunday and recommend giving it a try. First of all, it means that you can have a delicious and healthy Sunday supper with your family without spending hours in the kitchen. Since free time on the weekend is precious, not having to worry about dinner makes the whole weekend more enjoyable. Additionally, I love having leftovers for at least two healthy lunches during the week. I am constantly using leftovers from my slow cooker recipes to create quick and easy lunch time wraps, quesadillas, soups, tacos, and salads. It makes packing my own healthy lunches much easier.
Another reason I love making Weight Watchers Slow Cooker recipes and healthy slow cooker recipes is that I can come home after a long day and know that dinner is ready and waiting. Usually I will mix up everything I need for the recipe the night before and store it in the fridge. Then before I head out of the house in the morning, I will dump it into the slow cooker and let it cook all day. When I get home the house smells amazing and dinner is ready. To make things super easy, usually I will prepare the side dishes on the weekend or use something quick like frozen rice or quinoa to make dinner as simple as possible. Usually I can have everything on the table in less than 10 minutes.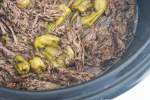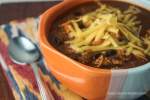 Meal Plan Members: See recipes you think your family will love? Consider adding them to your Recipe Queue or Favorites.
This post was originally shared in Janaury 2016 but has been updated to include new recipes and ideas.