7 Reasons You're About To Skip That Workout And How To Get Back On Track Right Now
With back to school season underway and the air fresh with change, fall is the perfect time to recommit to your fitness goals and carve out more workout time for you! But even if you have the best of intentions when planning to workout, that thing called life can throw off even the best-laid plans. Whether it's lack of energy, lack of motivation, or lack of direction, here are the most common excuses people make for not working out—and how you can change your inner dialogue this fall so you get back on track and get those workouts done.
1. You're Not Seeing Results
Nothing worth having came easily, and the same is true for your fitness goals, whether that includes weight loss, increased strength or better endurance. If you want something, you have to work at it. Results happen from consistency and intensity.
Try: Mixing It Up
If you want your workouts to be intense, you have to switch them up. Your body gets used to the workouts you do all the time, so they become less challenging, and therefore, stop showing you results. If you're a fan of steady state cardio like running, add some High Intensity Interval Training to the mix 2-3 days a week or swap one of your runs for a bodyweight interval routine. You'll start to engage different muscle groups and see different results.
2. You Can't Afford A Gym Membership or Equipment And Don't Know Where To Begin
Belonging to a gym can be great for the sense of community it affords, but also for access to equipment and trainers. Some people think they're unable to workout without a room full of fancy equipment or a personal trainer to lay out a step-by-step plan for them
Try: Here's the good news: you don't need a gym membership, fancy equipment, or a personal trainer to workout and see results. All you need is dedication! Online workout streaming services like mine—Get Healthy U TV—allow you to join for a low monthly fee that's often equivalent to a latte—much less expensive than a gym membership—and you can stream workouts anywhere at any time. Plus, all of my workouts require just your own bodyweight or a single set of dumbbells—not expensive! Even better, you can download workout calendars that tell you exactly which workouts to do each day to achieve your desired results. It's like having a personal trainer do all the work for you—you're all set!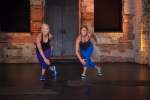 3. You're Too Tired
You're super tired, so you don't feel like working out…and then you don't work out, which leaves you feeling lethargic. Do you see how this can become somewhat of a chicken-or-the-egg situation? Exercise gives you more energy. It also helps you fall asleep faster and have more quality sleep. I always say: what's harder—getting up at 5 am for a workout, or going through your day feeling sick and tired? Pick your hard!
Try: Getting Your Workouts in Early
Try exercising early in the morning. The greatest benefit of morning workouts is this: people DO them! You're less likely to claim exhaustion like you would after the 3pm slump. Pack all your workout gear and a portable snack (like a banana) by the front door so when that alarm goes off you can get geared up before your body has the time to tell you it's tired. Of course, you should also aim to get 7 hours or more of sleep per night—prioritizing sleep and putting your health first is the first step in avoiding fatigue.
4. You Don't Have a Workout Buddy
Many people have a hard time motivating themselves without the help of a friend or trainer. A workout buddy can help keep you accountable and on track—we're all less likely to skip a workout when we have a friend waiting for us at the gym or the track. But what do you do if you can't find a partner in exercise?
Try: Group Fitness Classes or Fitness Trackers
The real thing you're craving here is accountability and encouragement, and luckily you can find that in multiple places. Sign up for group fitness classes or an online workout community. Or get a Fitbit! There are also countless apps that record your workouts; these can serve as a way to help you beat your own personal best.
5. The Weather Turned Ugly
The weather and the change of seasons are things we can't control, and they're also not usually an excuse for missing a workout. Sure, nothing beats the thrill of working out outside, but most of the time, an indoor workout can get the job done.
Try: Online Workouts
You can either brave the conditions (cold-weather running can be kind of exhilarating) or bookmark some rainy-day workouts online. You can subscribe to online workout membership services that allow you to stream workouts anywhere at any time.
6. You're Bored With Your Workouts
If you count down the minutes until you can be free of your gym clothes every time you workout, chances are you're not going to be putting in maximum effort, and you'll also be unnecessarily miserable. But not everyone needs to work out the same way, so if you've somehow forced yourself to accept slogging along on the treadmill, I'm here to liberate you: you DO NOT have to do workouts that you hate.
Try: A Sample Platter of Workouts
It's possible for you to find the exact kind of workouts that get your heart pumping, your mind stimulated, and your body in shape. Pick a group sport. Join a new gym. Try cardio kickboxing or an online dance class you can do in the comfort of your own home. Do aerial yoga at a studio or hike trails in nature. Make a pact with yourself, for your health: you get to try as many new workouts as it takes for you to find one that you love.
7. You Don't Have Time
So you said you'd workout today, but you wake up to a slew of emails and a to-do list longer than a restaurant menu. Soon, your goal of working out starts to feel less important, or like you don't deserve to take time for yourself when you have so many other obligations.
Try: Remembering Your "Why"
I always tell people that when they feel like quitting, or that life has gotten too hectic to prioritize fitness, they should remember why they started. Was it to fit into your favorite pair of jeans? Feel stronger? Live longer for your children? Put this motivation on a post-it note, somewhere where you will see it every morning. As soon as you see it, take one small action to making that workout happen: whether it's throwing your gym shoes into your bag or signing up for a yoga class later that afternoon. Motivate yourself to keep these very important "dates" with yourself by remembering why they matter. (That 42nd email can wait until after you're done!) Also, there are TONS of quick ways to get a workout in. Even taking 10 minutes to workout with basic bodyweight moves, or jogging for a mile can improve your mood and keep you on track. Don't discount shorter workouts—you don't always need to sweat for an hour to make it count!
So, now that you're out of excuses, what's stopping you? I have a coupon code just for you that allows you to join Get Healthy U TV for $10 for the WHOLE YEAR!