60 Weight Watchers Recipes (with New myWW Points!)
Weight Watchers® recipes for every meal, taste, and plan! Easy to make, delicious, and include Green, Blue, and Purple Smartpoints!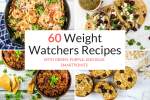 These delicious recipes make it easy to create family friendly meals that everyone will love and work for your Green, Blue, or Purple Weight Watchers® plan! With ideas for breakfast, lunch, easy dinners, slow cooker meals, and soups - this list is everything you need to get a tasty, WW friendly meal on the table,
With the new changes to Weight Watchers this year, it can be helpful to have some tried and true recipes ready to go. Today I am sharing 60 of my favorite WW recipes that are easy to make, taste incredible, and have points for all three plans to make it easy to plan a meal without worrying about calculating points or going over your daily allowance.

Easy Breakfasts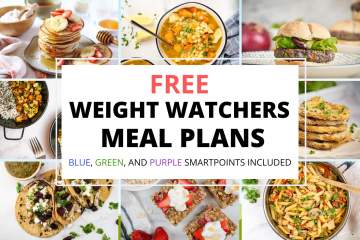 An easy healthy meal plan packed with delicious recipes for breakfast, lunch, and dinner with shopping list. SmartPoints included – Choose from Green, Blue, or Purple. Learn More

Quick Lunches

Weeknight Dinners

Slow Cooker Favorites

Soups We Love
More Ideas You'll Love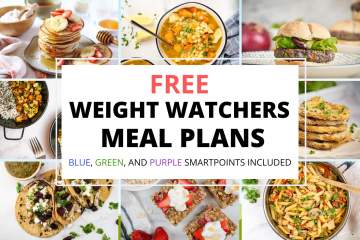 An easy healthy meal plan packed with delicious recipes for breakfast, lunch, and dinner with shopping list. SmartPoints included – Choose from Green, Blue, or Purple. Learn More
Tips for Making Your Own Weight Watchers Recipes
Whenever I share these types of lists, I also like to share tips on building your own delicious WW recipes at home. There are some tips and tricks that can make it easier to create recipes that work for your points budgets or adapt family favorites to be more points friendly.
Start with protein: Start by choosing a low point protein to build your meal. This can be animal or plant based protein. The lowest point options include chicken breast, lean ground turkey, lean ground chicken, fish, eggs, beans, lentils, and tofu. All of these are zero points on the Blue and Purple plans and 3 Smartpoints on the Green plan. Other low point proteins include boneless, skinless chicken thighs, pork tenderloin, center cut lean boneless pork, 95% lean beef beef, and lean beef cuts. These options have between 3-5 Smartpoints per serving on all plans.
Add flavor: On Weight Watchers, you always want to think about how to add flavors without reaching for typical flavor enhancers like butter or oil. The first place I start is always in my spice cabinet. Herbs and spices add so much flavor to a dish without adding points. Next up I think about adding flavor with garlic, ginger, shallots, onion, celery, peppers, or carrots. Using these aromatic vegetables as a base, can add tons of flavor. You'll notice that almost all our recipes start with sauteed garlic or onions. Some other favorites include canned diced tomatoes (most flavors are 0 points), chicken or vegetable broth (great for sauteeing veggies without oil), vinegar and flavored vinegar, hot sauce, soy sauce, coconut aminos, and citrus juices.
Bulk up with veggies: Since portions can feel smaller on WW, especially for things like pasta or rice, I always bulk up my dishes with tons of zero point vegetables. This adds flavor and volume to your meal. For example, replacing half of the rice in your favorite chicken and rice dish with cauliflower rice will dramatically reduce the points. Same for spaghetti squash, zucchini noodles, or even butternut squash noodles.
Garnish: Finish your dish with fresh herbs, a sprinkling of cheese, lemon juice, or a drizzle of vinegar. Another favorite trick for creating low fat creamy sauces is to simply stir in a few tablespoons of reduced fat cream cheese to finish the dish. You will be shocked at how creamy you can make a sauce with just a few tablespoons of cream cheese.