28-Day Healthy Dinner Challenge - Week 2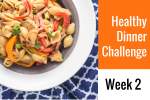 Yay! We made it to Week 2 of our Healthy Dinner Challenge! It has been so much fun seeing your dishes on Facebook and Instagram (#SKHealthyDinner), celebrating healthy eating wins together, and hearing about how dinner time has become easier and less stressful. Keep up the good work!
As we head into week #2, we want to begin celebrating the small wins you have experienced after just one week of healthier eating. Please take a minute to hit reply on this email and tell us about a positive change you have experienced during week 1! We will be sharing these victories to keep everyone motivated and we will be choosing one lucky person from those who respond to receive a free year membership to Slender Kitchen.
Heading into Week 2
Just starting? It's up to you whether you want to dive right into this week or start with week 1. We recommend starting with the current week so that you can participate in the community more. Then just add week 1 at the end of the challenge.
Motivation! We find that people have the hardest time sticking to their healthy dinner plans during weeks 2 and 3. To keep your willpower strong, try participating in the community, asking a friend to join the challenge to keep each other accountable, and celebrating small wins. Think back to week #1 of the challenge and how you felt. Sometimes remembering the success you already had can keep you motivated heading into the next week.
Adjust your plan. Take a minute to adjust the meal plan to suit your needs. The recipes and shopping list are based on four servings, but it is easy to adjust the recipes to make them work for any family size. Don't want to do the math? Follow the links to the recipes and use the servings tool to do the calculations for you. Just remember to adjust your shopping list. (P.S. Our interactive meal planner does all of this work automatically.)
This Week's Menu
1
2
3
4
5
Download Meal Plan
* Keep Reading: Don't miss the meal prep ideas, tips for cooking for one, ideas for bigger eaters, and healthy breakfast and lunch ideas below!
Meal Prep Ideas
We know how busy weeknights can get, so get this meal prep done over the weekend for faster weeknight meals.
Make all four servings of the Slow Cooker Pepperoncini Beef. Eat one that night, save two for lunch with the leftover polenta, and use the final serving instead of the Italian sausage. Just roast one small potato with some peppers and onions for that meal.
Make two servings of the Creamy Cajun Chicken Pasta. Use one for lunch. Use the extra peppers and onions for roasting with the meal above.
Choose to make either two servings of either the Broiled Asian Chicken or the Roasted Salmon. For the chicken, serve it as planned on night one. On night two, serve it in lettuce wraps with chopped pineapple, edamame, and brown rice. For the Roasted Salmon, serve it as intended on night one. On night two, make a big salad with the leftovers adding apple, fresh dill, and lots of greens topped with a lemony dressing.
Tips for Cooking for One
We understand that cooking for one can be tough so here are some ways to make the meal plan work for you.
Make all four servings of the Slow Cooker Tomato Balsamic Chicken. Eat one that night, save two for lunch with the leftover spaghetti squash (or freeze them), and use the final serving for the chicken in the One Pot Parmesan Chicken and Broccoli Pasta. Just add it at the end since it is already cooked.
Make two servings of the Thai Basil Ground Beef Bowls. Eat the extra serving for lunch or freeze it for a fast future meal.
Choose to make either two servings of the Almond Crusted Pork or two servings of the Ancho Fish Tacos. If you choose the pork, eat it as intended on night one and then use it to make crispy pork tacos on night two. If you choose the Ancho Fish Tacos, make it as intended on night one and then make a burrito bowl on night two.
Tips for Bigger Eaters
Every person and family is different and we know sometimes you may need to bulk up some meals to keep everyone full. Here are some simple ideas to do just that.
Slow Cooker Pepperoncini Beef: Serve it as sandwiches on a light or whole wheat roll with melted cheese.
Creamy Cajun Chicken Pasta: Double up on the chicken to make it more filling.
Roasted Italian Sausages: Add a few extra sausages, a side of rice, or make a heartier green salad adding white or black beans.
Broiled Asian Chicken Thighs: Add a side of protein and fiber packed edamame.
Roasted One Pan Salmon: Serve it with your favorite canned, frozen, or homemade soup.
Breakfast and Lunch Ideas
Ready to make healthier choices at other meals as well? Try out these yummy breakfast and lunch recipes.
Cinnamon Pear Oatmeal
Coffee, ten extra minutes of sleep, and this oatmeal that tastes like dessert and I am one happy girl. It doesn't take much, but we all know how hard it can be some mornings. Luckily…
See Recipe


Breakfast English Muffin Pizzas
It's funny what memories stand out from childhood. I have one particular childhood friend and honestly I don't have too many memories of our times running around the neighborhood…
See Recipe

Sweet Chili Chicken Salad
It's getting hot and the idea of turning on my stove during the day is becoming less and less appealing. That means lots of salads for lunch utilizing leftover protein from other meals. Yesterday I was craving something sweet and spicy…
See Recipe