28-Day Healthy Dinner Challenge - Week 1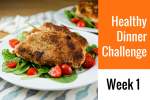 Challenge Starts Soon! Meal Plan and Shopping List Inside
We're just a few days away from the start of the Healthy Dinner Challenge and we couldn't be more excited! This post contains your first meal plan and shopping list as well as lots of helpful information to get you started on the path to healthier meals!
Here's how it works:
First thing – every Friday for the next 4 weeks, we will send out your weekly challenge email and meal plan. Each meal plan will contain five healthy dinner recipes and a shopping list. It will also contain two fallback recipes just in case. If you still need to make some changes, remember you can use any healthy dinner recipe from Slender Kitchen The point of the challenge is to start cooking healthy, wholesome meals at home so find recipes that work for you, although we hope that you'll try our suggestions!
Next – Decide what days you will be cooking. Most people choose to cook Sunday-Thursday or Monday-Friday, but it is up to you. Choose the five nights that work best with your schedule.
Finally – Take a minute to adjust the meal plan to suit your needs. The recipes and shopping list are based on four servings, but it is easy to adjust the recipes to make them work for you. Don't want to do the math? Follow the links to the recipes and use the servings tool to do the calculations for you. Just remember to adjust your shopping list. (P.S. Our interactive meal planner does all of this work automatically.)
This Week's Menu
1
2
3
4
5
Download Meal Plan
* Keep Reading: Don't miss the meal prep ideas, tips for cooking for one, ideas for bigger eaters, and healthy breakfast and lunch ideas below!
Meal Prep Ideas
We know how busy weeknights can get, so get this meal prep done over the weekend for faster weeknight meals.
Microwave or roast the spaghetti squash for the Slow Cooker Tomato Balsamic Chicken
Chop the broccoli for the One Pot Parmesan Chicken and Broccoli Pasta
Make the cauliflower rice for the Thai Basil Ground Beef Bowl
Tips for Cooking for One
We understand that cooking for one can be tough so here are some ways to make the meal plan work for you.
Make all four servings of the Slow Cooker Tomato Balsamic Chicken. Eat one that night, save two for lunch with the leftover spaghetti squash (or freeze them), and use the final serving for the chicken in the One Pot Parmesan Chicken and Broccoli Pasta. Just add it at the end since it is already cooked.
Make two servings of the Thai Basil Ground Beef Bowls. Eat the extra serving for lunch or freeze it for a fast future meal.
Choose to make either two servings of the Almond Crusted Pork or two servings of the Ancho Fish Tacos. If you choose the pork, eat it as intended on night one and then use it to make crispy pork tacos on night two. If you choose the Ancho Fish Tacos, make it as intended on night one and then make a burrito bowl on night two.
Tips for Bigger Eaters
Every person and family is different and we know sometimes you may need to bulk up some meals to keep everyone full. Here are some simple ideas to do just that.
Slow Cooker Tomato Balsamic Chicken: Add a side of whole wheat or high fiber pasta.
One Pot Creamy Parmesan Chicken with Broccoli Pasta: Either double up the recipe to make a full pound of pasta or add a big green salad on the side.
Thai Basil Ground Beef Bowl: Add cooked brown rice or quinoa to mix in with the cauliflower rice.
Crispy Almond Crusted Pork: Add a baked sweet potato on the side.
Ancho Fish Tacos: Serve it with some corn on the cob and sliced avocado.
Breakfast and Lunch Ideas
Ready to make healthier choices at other meals as well? Try out these yummy breakfast and lunch recipes..
Banana Quinoa Chia Muffins
Sometimes Mondays are just the worst, especially Mondays when you go to bed mentally going through your mile long to-do list that seems to be growing by the minute. Today is that kind of…
See Recipe

Cranberry Tuna Salad
Lately summer lunches have had me stumped. Most days I am making some type of salad or wrap using leftover protein and veggies. However sometimes I want something different so I decided to create one of my favorite Whole Foods…
See Recipe