Meal Planning FAQs and 25% OFF Special
Don't miss out on the 25% off New Year's special! Healthy meal planning made easy with shopping lists, nutritional info, and points. Only a few more days for the discount!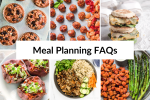 Never dread meal planning again! Our easy to use meal planning system makes healthy eating and meal planning stress free and delicious. It's the perfect way to kick start the New Year!
"Slender Kitchen Meal Plans are the easiest and most affordable way to cook healthy meals for your family. Hands down, this was a game changer for us." - Sarah G.
If you met me five years ago, I seriously hated meal planning. Working full time, totally over-scheduled, and stressed out - meal planning took too long and was a huge headache.
And therefore our meal situation – it was a hot mess. I cooked the same things over and over again, ordered take-out too often, wasted so much food, and felt guilty about how I was feeding my family. It just wasn't working. It was time to make a change. That's when I discovered meal planning. It changed everything.
And now I want to help you do the same thing.
We handle the meal planning and make healthy eating easy.
Stop wasting time: Delicious, hand picked recipes for breakfast, lunch, and dinner.
Eat healthy, your way: Customize your plan, swap in new recipes, remove meals you don't need, even ADD leftovers.
Nutritional info and WW Blue, Green, and Purple Smart Points included with all recipes
Save money: Weekly shopping lists so you only buy what you need
"I have been using the meal plan for 3 years... the recipes are amazing and it makes my life sooooooooo much easier." - Amy Kemp

Frequently Asked Questions About the Meal Plans
What's included in my membership?
Your membership to Slender Kitchen includes access to all of our weekly meal plans including the healthy, low carb, and vegetarian meal plans and the Just Dinners meal plans. It also includes access to the interactive meal planning tool that lets you:
Customize the meal plans by adding or removing recipes
Customize servings for any family size
Build your own meal plans
Track weight loss and calories
Add items to your shopping list
Decide exactly what meals you would like to include
Is this a weight loss plan or diet?
Slender Kitchen is not a specific weight loss plan or diet, but can be used to complement virtually any weight loss. All meal plans and recipes include nutritional information so you can customize plans to meet your calorie and/or nutritional goals.
Additionally, Slender Kitchen is full of healthy recipes for many different diets – Paleo, Low Carb, Vegetarian, Gluten Free, and more – so it is easy to build a plan to match your needs if our suggested plans don't work for your diet. Recipes also include Weight Watchers® Blue, Green, and Purple SmartPoints®.
How does the interactive meal planner work?
The interactive meal planner works in two ways. First, the interactive meal planner allows you to customize any of our ready to use meal plans. You can delete recipes you don't like, drag in new recipes you want to use, add snacks, adjust the number of servings, remove mals you don't need, and more. Your recipes and shopping lists will adjust automatically.
Additionally, our meal planner can be used to build your own meal plans from scratch. You start with a blank calendar and can drag in any of our thousands of recipes you want to prepare. The shopping list for your meal plan is created automatically as well as a downloadable .pdf file.
How many people do your meal plans serve?
The great thing about our interactive meal planner is that you get to customize the plans for as many or as few servings as you like. The recipes and shopping lists will adjust automatically for the number of servings you have chosen. You can then customize those meal plans or simply download the plan with your custom servings.
For those people using the pre-made meal plans, the plans are available for two and four people.
Can I switch between meal plans?
Definitely! Your membership to Slender Kitchen gives you access to all the meal plans.
Can I add my own items to the shopping list?
Absolutely! Our interactive meal planner allows you to add any of your own items to the shopping list. For those people choosing to use the pre-made meal plans for 2 or 4 people, there is a space in the .pdf to write in your own items.
Can I just use the meal planner to make my own meal plans?
Of course! The meal planner can be used to customize our plans or create your own from scratch.
I just need ready to go meal plans, do you offer that?
Yes! Although many of our users prefer to use the meal planner to customize the meal plans to fit their needs and family size, we know some people just want to convenience of downloading a meal plan that's ready to go. For that reason, every week we offer our Healthy, Vegetarian, and Low Carb Complete Meal Plans and Dinner Only Meal Plans for 2 or 4 people as a simple, one click download. This will include all the recipes you need, a categorized shopping list, and calendar of you meals.
Do the meal plans work for people on Weight Watchers?
We include Weight Watchers® Blue, Green, or Purple SmartPoints® in all of our recipes so that people following Weight Watchers® can also use our plan. You can choose the color you would like to see in your meal plan.
Still not sure? Here's what some of our current members love about our healthy meal plans.
"I have just been a member for a couple of weeks, but I am so impressed with your service and had to let you know! We tried the free sample meal plan and were hooked. The recipes are delicious, seasonal and easy to prepare. I absolutely love that Sundays are the only day with a bit of extra work and then the rest of the week it fast and easy to eat delicious, healthy food. My entire family looks forward to trying the new recipes and I love preparing them. I used to dread meal planning and now I don't have to. The ability to change the number of servings per meal and then have a generated grocery list is amazing. You are saving us money both by avoiding wasted groceries and by making me want to eat the lunch I bring to work rather than go out for something tastier! I don't want to forget to mention the added bonus of the weight we are losing - my husband has had to put new holes in his belt after only 2 weeks and I have already lost 5 pounds. I feel lighter and healthier and c ompletely satisfied. Finally, my kids are eating more veggies! YAY! I have been telling all of my friends and co-workers about your program. I can't say enough good things and I can't thank you enough for giving us the motivation to eat better and for making it sooooo easy! A tremendous value too! I could go on all day, but really, just keep up the amazing work and know that you have had a very positive impact in our life!"
Read more testimonials.
We truly believe that meal planning can be the thing that changes mealtime stress, weight loss, and healthy living for you. We have seen this happen for countless members who are finally enjoying mealtime again, eating healthier, and losing weight.
Copy and paste the code
NY2021

at checkout for 25% off your subscription fee!