25% OFF Meal Plans - One Day Left!
Don't miss out! 25% OFF all meal plans and gift subscriptions! Ends tomorrow.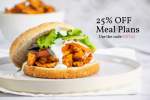 With the holidays upon us, there is no better time to get a little help with meal planning. Plus this makes the ultimate gift!
While I can't help with crazy holiday schedules – I hope I can at least make meal time less stressful. Having a plan for meal times makes dinner a time you can enjoy with your family instead of one that creates added stress and frustration. Plus, with our healthy recipes – you can feel good about what you are feeding your family. Plus all our recipes are tested to be easy to make, delicious, and family friendly.
"Love the meals! It makes my life so much easier trying to figure out what we're going to eat each night. Plus, it helped me with the food rut we got in. First week on the plan and I dropped 2.4lbs!"

Morgan
"Great choices. Easy with the shopper's guides and a great variety with the points. The best choice I have made so far this year. I am absolutely delighted with it! Go for it people! "

Lora
Stop Worrying About What's For Dinner
Our easy to use healthy, low carb, and vegetarian meal plans make healthy eating stress free and delicious.
Save time and stop wondering, "What are we going to eat?
Family tested good-for-you recipes that are easy to prepare All of our recipes are tried and tested to make sure they taste delicious.
Based on your family size: No more adjusting recipes to fit your family size. You tell us how many people you want to cook for and all the recipes are automatically adjusted for you.
Complete, categorized shopping lists: Save money at the grocery store by only buying what you need. The average shopper spends 40% more money at the store when they shop without a list.
Nutritional info and SmartPoints™ included with all recipes
Easily customized: Our easy to use meal planner lets you easily customize the menu to fit your needs – add new recipes, remove meals that don't work for you, add your own items to your shopping list, and change servings in just a few simple clicks.
Get Started with Slender Kitchen Meal Plans Today!
Enjoy 25% off your meal plan subscription.
Give the gift of meal planning to your favorite busy family for the best holiday gift. Enjoy 25% off all regular and gift subscriptions using the code
We truly believe that meal planning can be the thing that changes meal time stress, weight loss, and healthy living for you. We have seen this happen for countless members who are finally enjoying meal time again, eating healthier, and losing weight.
Copy and paste the code
GET25

at checkout for 25% off your subscription fee!